Cellulite Reduction Treatment Questions and Answers
Are you looking for a procedure to get rid of cellulite? Talk to a team of specialists at En Vogue Medi-Spa!

Call

or visit us at

44 2nd St Pike Southampton, PA 18966

. We are open 5 days a week.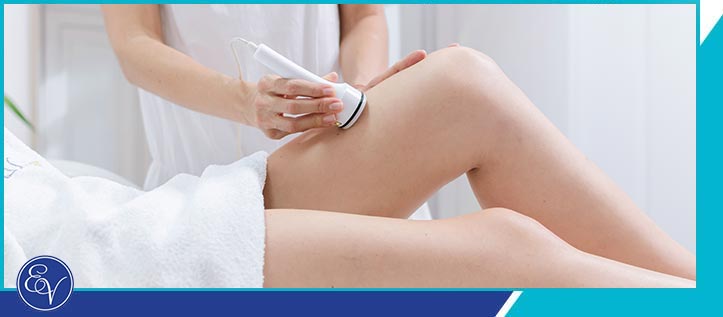 While the appearance of cellulite naturally occurs on our bodies without causing any physical harm or risks, it is often a cause for individuals to feel dissatisfied with their bodies and appearance. If you find that you are bothered by the appearance of cellulite on your body, our medical aestheticians and plastic surgeons would be pleased to provide you with cellulite reduction treatment at En Vogue Medi-Spa!
What is cellulite reduction treatment?
Cellulite reduction treatment refers to several different treatments that aim to reduce the appearance of cellulite on a person's skin. Cellulite is a cosmetic skin condition that results in the appearance of dimpled skin and is most commonly located on a person's buttocks or thighs, but it can also appear on a person's breasts, lower abdomen, or upper arms.
What is the best treatment for cellulite reduction?
There are numerous treatment options available for cellulite reduction. As such, it is difficult to objectively state which cellulite reduction treatment is unequivocally the best since the effectiveness of the different treatment methods will vary between patients according to several determining factors. Some of these factors include the size of the treatment area, the goals or hopes that the patient has for treatment, any allergies or pre-existing medical conditions that the patient has, and how well they have responded to previous treatments.
With that in mind, some common cellulite reduction treatments that have proven effective for numerous individuals include the following:
Body contouring procedures, such as i-Lipo Xcell body contouring and reshaping
Cellfina, which is a minimally invasive form of mechanical subcision
Cellulaze, which is a laser cellulite reduction therapy
Dermal fillers, such as Sculptra (poly-l-lactic acid) or Radiesse (calcium hydroxyapatite)
Laser-assisted liposuction
Manual subcision
QWOâ cellulite injectable (collagenase clostridium histolyticum-aaes)
Radiofrequency treatments, such as VelaShapeâ or Venus Freezeâ treatment
Topical creams
Ultrasound treatment, such as Ultherapy
We are proud to offer several of the above treatments for cellulite reduction at En Vogue Medi-Spa! If you have questions or would like more information about the cellulite reduction treatments that we provide at En Vogue Medi-Spa in Southampton, PA, we invite you to give us a call or schedule a consultation. Our medical aestheticians and cosmetic doctors can evaluate your symptoms and let you know which treatment option is right for you.
Is cellulite reduction treatment non-surgical?
There are surgical and non-surgical treatment options for cellulite reduction. In most cases, non-surgical treatment options can provide patients with satisfactory results that they can feel proud of. However, if the cellulite is extensive and the patient is open to surgery, a surgical procedure such as liposuction or manual subcision may be desired to achieve satisfactory results. At En Vogue Medi-Spa, we typically prioritize non-surgical cellulite reduction treatments whenever possible to minimize risks and avoid long recovery periods for patients.
What are the benefits of cellulite reduction treatment?
Cellulite reduction treatment can provide effective results without requiring lengthy recovery periods or invasive procedures. As such, there are numerous benefits to getting cellulite reduction treatment! If you are bothered by the appearance of cellulite, cellulite reduction treatments can provide you with smoother and firmer skin, in addition to many other improvements to the health and appearance of your skin.
If you would like to learn more about the benefits of cellulite reduction treatment or want to schedule a cellulite reduction treatment appointment with us at En Vogue Medi-Spa, we welcome you to do so by calling us or scheduling an appointment through our website! You can find En Vogue Medi-Spa located at 44 2nd St Pike in Southampton, Pennsylvania. We serve clients from Southampton PA, Woodmont PA, Willow Grove PA, Horsham PA, Levittown PA, and Parkland PA.