Ultherapy Specialist Questions and Answers
When looking to lift, tighten your neck, chin, and brows, and reduce fine lines and wrinkles visit En Vogue Medi-Spa for our non-invasive, innovative Ultherapy treatment. Call or book a consultation today. We are open 5 days a week. We have

convenient locations

to serve you.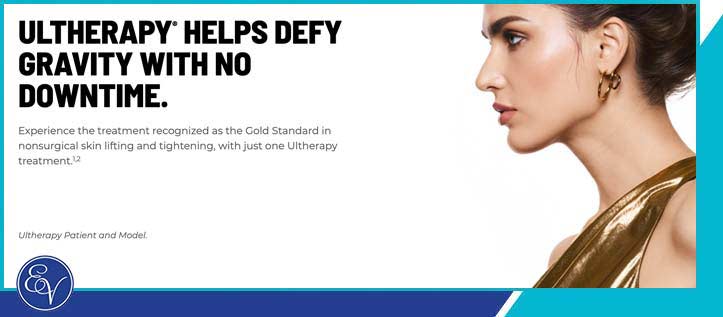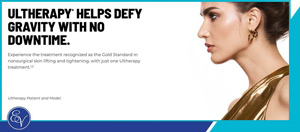 Table of Contents:
What is Ultherapy and how much does it cost?
How long does Ultherapy last?
How much does Ultherapy skin tightening cost?
How many Ultherapy treatments are needed?
If you are seeking a safe and effective skin lifting procedure that is FDA-approved, look no further than Ultherapy treatment! At En Vogue Medi-Spa, we are proud to offer high-quality Ultherapy treatment. Our medical aestheticians are committed to delivering thorough and flawless treatments.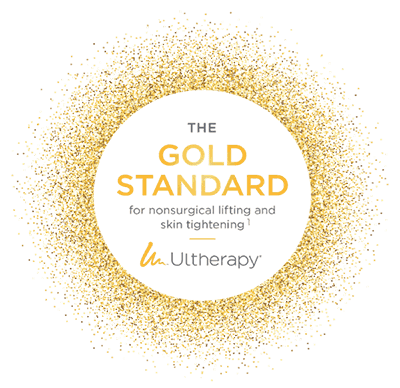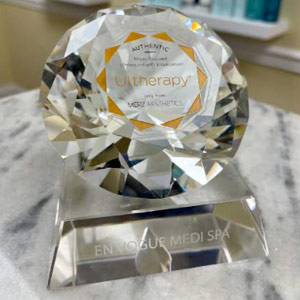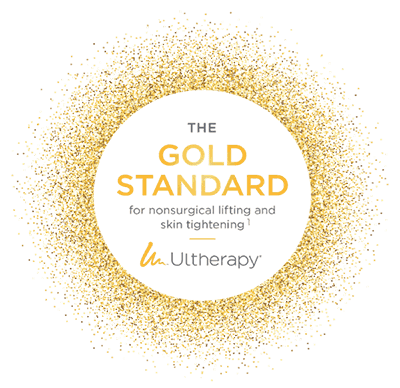 What is Ultherapy and how much does it cost?

Ultherapy is the only FDA-cleared, non-invasive procedure that lifts the neck, chin and brow, and improves lines and wrinkles on the upper chest. Through the ultrasound imaging with Ultherapy, energy is delivered precisely to the place where it will benefit you most—for natural-looking results. Ultherapy stimulates collagen production through focused ultrasound energy delivered by the Ulthera device to the dermis, or foundational layer of your skin, without damaging the epidermis, or surface of your skin.
After an ultrasound gel is applied to the treatment area, the Ulthera device bypasses the epidermis and delivers a safe and certain amount of ultrasound energy to the dermis at an appropriate temperature. As such, it requires no needles, lasers, or radiofrequency to provide you with tighter and smoother looking skin. Your skin naturally responds to this stimulation to produce collagen. The entire procedure lasts approximately 45 minutes and no downtime is required.
Ultherapy has proven to effectively reduce fine lines and wrinkles on the face and lower neck, or décolletage. Depending on the specific treatment area, Ultherapy typically costs between $450 to $5000.
How long does Ultherapy last?
Results from Ultherapy are very long-lasting! While some patients are lucky enough to see results right away, it usually takes about two to three months for most patients to see results. These results typically last anywhere from two to three years! If you continue to develop good habits and apply good skincare products on your skin that promote skin tightening and collagen growth, you can expect to maximize the longevity of your Ultherapy results.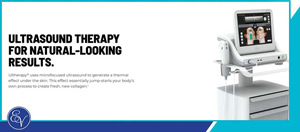 How much does Ultherapy skin tightening cost?

The price of Ultherapy varies according to the treatment area. For full face and neck treatment, the standard cost is $5,000. For lower face and neck treatment, the standard cost is $3,800, and for décolletage, it is $2,500.
While Ultherapy is the only skin lifting procedure that has been FDA-approved, it is generally not covered by insurance. That said, we are happy to offer various specials and promotions at En Vogue Med-Spa. If you go to our Specials page, you will see a list of promotions we are currently offering. To qualify for these specials, all you need to do is find the box asking for your first name, last name, and email address and click "sign up." Whenever any Ultherapy specials come available, you will be the first to know!
How many Ultherapy treatments are needed?
With Ultherapy treatment, you will only need one treatment session to experience lasting results. During the treatment, the medical aesthetician will do three different passes with the Ulthera device on the treatment area, with a superficial pass followed by two deeper passes. That being said, you do have the option to draw out the treatment sessions into two or three sessions, in which one session would consist of a superficial pass and the following sessions would go deeper.
If you would like to book an appointment for Ultherapy treatment at En Vogue Medi-Spa or would like to learn more about our Ultherapy services, we would love to hear from you! You can either Call or visit us online for an appointment. We have convenient locations to serve you, and is open during the following hours: Tuesday to Thursday from 11:00 a.m. to 7:00 p.m., Friday from 11:00 a.m. to 5:00 p.m., and Saturday from 11:00 a.m. to 5:00 p.m.
We look forward to meeting you! We serve clients from Southampton PA, Woodmont PA, Willow Grove PA, Horsham PA, Levittown PA, and Parkland PA.