CoolSculpting FAQs
When you've tried all forms of dieting and exercise to lose those stubborn last few pounds, give CoolSculpting a try. En Vogue Medi-Spa now offers this revolutionary treatment. For more information, Call or visit us. We have

convenient locations

to serve you.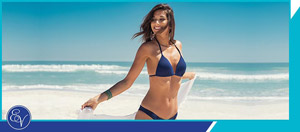 Table of Contents:
What is CoolSculpting?
Is CoolSculpting permanent?
Which areas can be treated with CoolSculpting?
How many times do you have to get CoolSculpting treatments?
Does En Vogue feature the newest CoolSculpting Technology?
What to expect with my first CoolSculpting Treatment?
What is the average cost of CoolSculpting?
Is Financing for CoolSculpting Treatments Available at En Vogue?
What are the dangers of CoolSculpting?
Can the Alle Rewards Program be used for CoolSculpting?
One of the biggest problems with fat is just how stubborn it can be. In many cases, dieting and exercise just can't get rid of fat deposits in certain areas of the body. When a good diet and working out just isn't working out, The CoolSculpting Non-Invasive Fat Reduction Procedure at En Vogue Medi Spa can help!
The CoolSculpting Fat Reduction Treatment has become quite popular because it provides lasting results, its affordable for many patients and safe too! With over 7 million CoolSculpting treatments performed worldwide, people everywhere are enjoying the benefits of their CoolSculpting transformation! There are lots of reasons to like CoolSculpting, so let's take a look at some of the biggest ones so that you can make an educated decision as to whether CoolSculpting in Southampton PA may be right for you!
What is CoolSculpting?
CoolSculpting is the world's #1 non-invasive fat reduction procedure. It's an innovative way to contour your body by freezing unwanted fat away with no surgery or downtime. The technical name is Cryolipolysis, which is just a scientific term for fat freezing. The medical experts at Zeltiq & CoolSculpting spent years developing the treatment, which features one-of-a-kind technology that quite literally freezes and kills fat cells. In as little as 1 session, the unique CoolSculpting® fat-freezing technology is scientifically proven to reduce pockets of fat in trouble spots such as the abdomen, flanks, or under the chin.
Is CoolSculpting permanent?
Unsurprisingly, this is one of the biggest questions our med spa gets about CoolSculpting, and we're pleased to tell you that yes, unlike most other non-invasive fat reduction treatments, CoolSculpting is permanent! Once you understand a bit about how the procedure works, you'll understand that it's truly permanent.
With CoolSculpting, fat cells are targeted in the body, frozen and crystalized. In the weeks that follow the CoolSculpting treatment apoptosis takes place, which is the programmed death of these crystalized fat cells. Once the crystalized fat cells die off, the body disposes of them naturally.
After the dead fat cells are removed from the body, that's it, they're gone for good! Dead fat cells cannot be regenerated or relocated to a different part of the body. To keep new fat from forming, all patients need to do is stick to a healthy diet and exercise plan. If they do this, they'll be able to maintain their results indefinitely!
Which areas can be treated with CoolSculpting?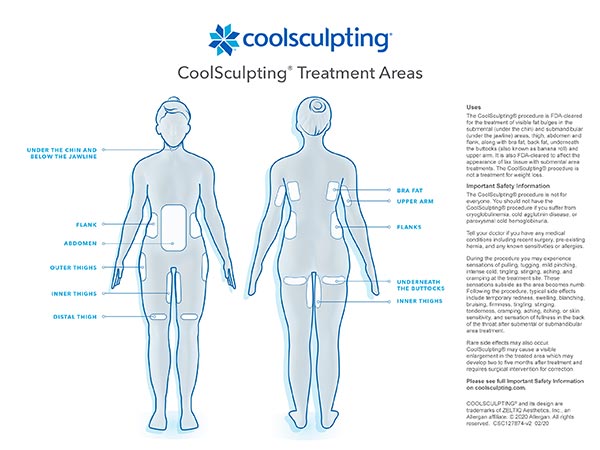 CoolSculpting® is FDA-cleared to treat 9 different areas of the body; visible fat bulges in the submental (under the chin) and submandibular (under the jawline) areas, thigh, abdomen and flank, along with bra fat, back fat, underneath the buttocks (also known as banana roll) and upper arm. It is also FDA-cleared to affect the appearance of lax tissue with submental area treatments. ­­
The CoolSculpting Treatment is a fat reduction procedure, however, it is not a treatment for weight-loss nor is it a healthy substitute for a weight-loss program.
How many times do you have to get CoolSculpting treatments?
After a single CoolSculpting treatment, in as little as 3 weeks, patients may notice the treated area is significantly slimmer and more sculpted. The most dramatic CoolSculpting results are generally visible one to three months after the CoolSculpting Procedure, which is an average of a 20%-25% reduction of fat in the treated area. For many patients, this is all they need, so they're done after only one treatment. Some patients may need more fat reduction than others and will benefit from another treatment. Visible results may vary, in rare cases results may continue to improve for up to 6 months after CoolSculpting.
Does En Vogue feature the newest CoolSculpting Technology?

Yes! En Vogue Medi Spa is proud to feature the newest and most advanced technology from CoolSculpting known as CoolAdvantage. The recently released CoolAdvantage Family of applicators from CoolSculpting freeze fat at a lower temperature than previous CoolSculpting applicators. In addition, these new applicators reduce treatment time nearly in half. Instead of the original 60-minute CoolSculpting treatments, you can now have a 35 minute CoolSculpting treatment with even better results. The new CoolSculpting CoolAdvantage Applicators available at En Vogue Medi-Spa provide a more comfortable, effective and efficient treatment.
What to expect with my first CoolSculpting Treatment?
If you are a candidate for the CoolSculpting treatment, En Vogue's CoolSculpting Specialists will work with you to create a Customized CoolSculpting Treatment Plan depending on your goals.
Prep – Once your Customized CoolSculpting Treatment Plan has been completed and the treatment target areas have been identified, our CoolSculpting Specialists will begin prepping the treatment area for the CoolSculpting Procedure. Your provider will then apply a clear gel pad to the treatment area. This creates a barrier between the cooling applicator panel and your skin.
Let the science do the work – You'll feel a slight sucking sensation as the applicator adheres to your body. During the procedure you may experience sensations of pulling, tugging, mild pinching, intense cold, tingling, stinging, aching, and cramping at the treatment site. These sensations generally subside as the area becomes numb.
And chill – During the treatment you will be able to read, watch netflix, listen to music, answer emails, or chat with a friend. After the procedure is completed and the applicator is detached, your provider will do a brief massage on the treatment area to break up the treated fat cells and enhance the fat reduction. That's it! Most patients experience little to no downtime after treatment.
What is the average cost of CoolSculpting?
For many patients, CoolSculpting is definitely worth it, especially when you compare it to the alternatives out there. The cost of the treatment varies depending on the area being treated, the type of cycle/applicator used, the location the service is provided in, the service provider, and other factors. Recently, the American Society of Plastic Surgeons estimated that the average cost of CoolSculpting per treatment was around $1,480.
Compared to alternatives, CoolSculpting could easily be considered less costly. It's typically less expensive than liposuction, often at least by $2,000 or more. There are other costs involved with liposuction too, such as the downtime required, which might mean time off from work and, as a result, lost earnings. With CoolSculpting, there is virtually no downtime and the procedure is safe.
The best way to determine your potential CoolSculpting Treatment costs is to schedule a Complimentary CoolSculpting Consultation. Our CoolSculpting Providers will help determine the number of treatments you'll need, as well as the best CoolSculpting payment plan to achieve your goals.
Is Financing for CoolSculpting Treatments Available at En Vogue?
Yes! En Vogue Medi Spa & Plastic Surgery Center offers several financing options for CoolSculpting! Get approved in minutes with a quick application! For more information on CoolSculpting Financing for your CoolSculpting Treatment, please call (215) 355-5777.
What are the dangers of CoolSculpting?
Since CoolSculpting is entirely noninvasive, the risks involved are generally minor and negligible! This is true especially in comparison to invasive procedures like liposuction which carry significant risk. With CoolSculpting, patients can experience a bit of a tugging sensation, swelling, minor pain, aching, bruising, cramping or sensitivity during or after a procedure. That's it. You can be confident that your CoolSculpting procedure will be safe and safely performed by the fully qualified professionals here at En Vogue Medi Spa.
Can the Alle Rewards Program be used for CoolSculpting?
Allē is the new and improved loyalty program offered by Allergan Aesthetics. Get rewarded for your favorite procedures like CoolSculpting, BOTOX, JUVEDERM and more at En Vogue Medi-Spa & Plastic Surgery Center! Allē, the new face of Brilliant Distinctions, is your destination for all things aesthetic. Personalized rewards are directly linked to your Allē member profile for easy use. Points and offers can be conveniently redeemed at checkout.
If you'd like to learn more about CoolSculpting, then we'd like to tell you more during a simple consultation with us here at En Vogue Medi Spa. To book that consultation with us, or to ask us any questions about our services, staff, or med spa, give us a call. Alternatively, you can book a consultation or appointment with us online. When you come in for your consultation or appointment, We have convenient locations to serve you. We serve clients from Southampton PA, Woodmont PA, Willow Grove PA, Horsham PA, Levittown PA, and Parkland PA.
We hope to hear from you soon so we can tell you anything else you'd like to know about CoolSculpting, one of the safest, highest-value fat reduction treatments available!