Laser Hair Removal in Southampton, PA, and Langhorne, PA
Are You Looking for a permanent solution to get rid of unwanted hair? Tired of shaving, waxing, or tweezing? Consider laser hair removal. Visit the experts at En Vogue Medi-Spa.

Call us

or book an

appointment online

. We have

convenient locations

to serve you.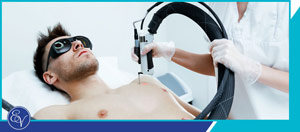 Laser Hair Removal
Hair removal can feel like a never-ending battle for many people. No matter how often you shave, pluck, thread, or wax, there seems to always be another area that needs tending to or a stray patch of hair you may have missed. At En Vogue Medi Spa, we believe there is a better way to get rid of unwanted hair! We proudly offer customized laser hair removal services for men and women in Southampton, PA, and the surrounding areas who want to achieve long-lasting results and enjoy soft, silky-smooth skin without the hassle.
Laser Hair Removal is a medical-grade procedure which eliminates hair follicles, leaving you with smooth skin after a completed series of treatments.
Treatments are quick, lasting only about 20 minutes on average with no downtime.
All En Vogue Medi Spa hair removal services are FDA-cleared
All treatments are performed by highly-trained medical professionals and nursing practitioners.
The Gold Standard
En Vogue Medical Spa is committed to providing our patients with access to the latest and most advanced cutting-edge treatment technology! In addition to having a skilled treatment provider, the type of laser being used to perform your laser treatment makes ALL the difference. Your hair removal treatment at En Vogue Medi Spa will be performed with our powerful award-winning lasers; The New Candela GentleMax Pro and New Cynosure Elite IQ Laser Systems. These advanced systems are considered the "Gold Standard" in hair removal and are regarded as the top medical-grade laser hair removal treatments available today.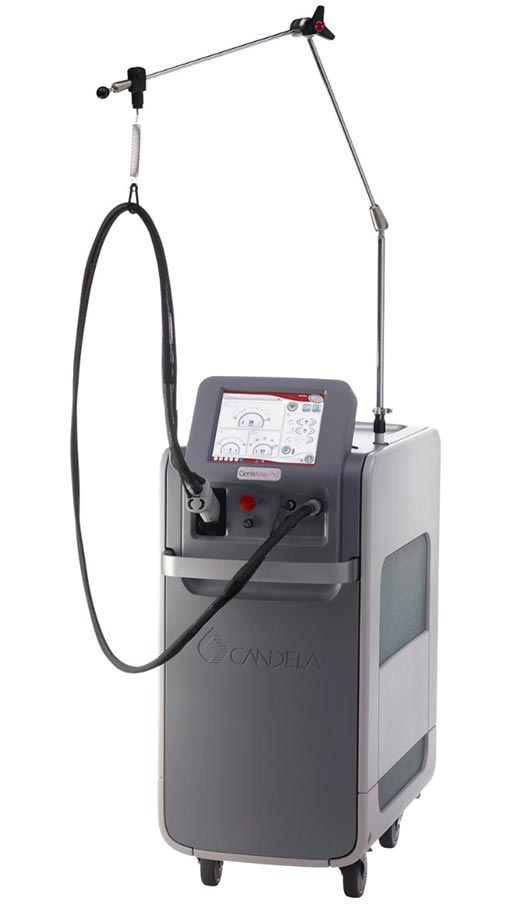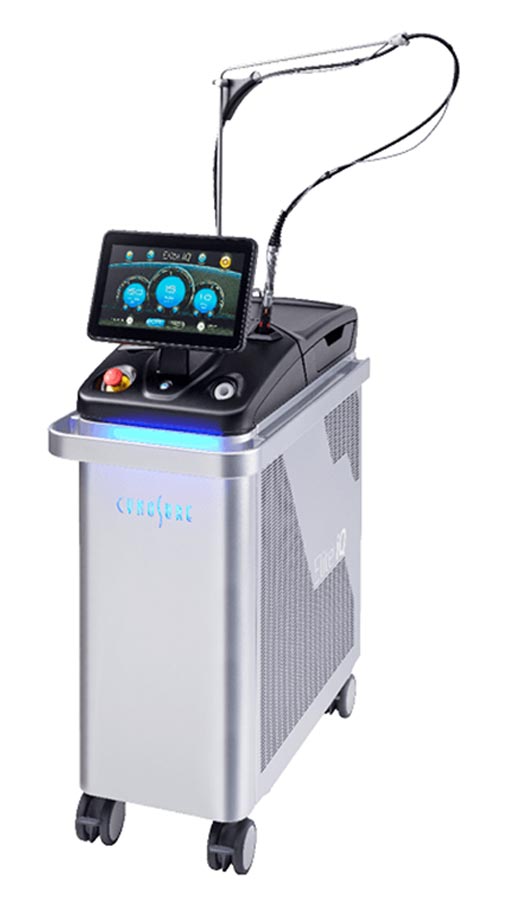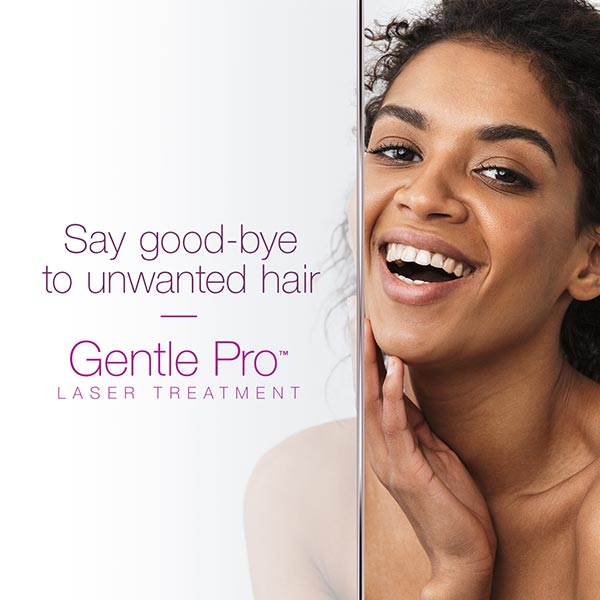 Which areas can be treated with Laser Hair Removal?
Our skilled providers can remove hair from virtually any part of your body! Patients have enjoyed the benefits of laser hair removal on their bikini area, brazilin area, legs, arms, hands, face, chest, back, shoulders, and underarms. If you have unwanted hair on your body, our clinicians can design a laser hair removal treatment plan that will help you address your concerns. Men and women of all ages can benefit from laser hair removal, no matter what areas of their body may cause them embarrassment or discomfort.
How Many Laser Treatments Will I Need?
Your treatment program will be designed especially for you and the number of treatments you will require to reach your optimum results. This will depend on the area being treated, the thickness of your hair, as well as your skin tone and hair color. A general rule of thumb for laser hair removal treatments is that 6-8 sessions are necessary to achieve full results during an initial treatment protocol. Depending on the treatment and area, your initial sessions should be spaced approximately 4-8 weeks apart in order to allow the hair time to cycle through different growing phases. Following your initial round of sessions, maintenance treatments can always be scheduled if you notice that hair has begun to grow back in the previously treated area.
Why Choose En Vogue Medi-Spa for Laser Hair Removal Treatment?
En Vogue Medical Spa is one of the most popular Laser Hair Removal Providers in the area! The dedicated team of laser hair removal experts at En Vogue Medi Spa are tried and tested with years of experience. We feature the latest and most advanced laser technology for hair removal, working exclusively with Candela® and CynoSure® Laser Systems. With years of experience and thousands of completed laser hair removal procedures, our team has the knowledge, tools and skillset to help you achieve silky smooth skin! The combination of our highly skilled medical team and our state-of-the-art lasers ensure safe, efficient and effective hair removal treatment.
Will I Need Any Downtime To Recover From My Sessions?
There is no downtime necessary for recovery. For a few days following each treatment, your skin may look a little red, as if you have sustained a sunburn. Be gentle with your skin and be sure to protect it from the sun and moisturize with a gentle lotion. Those with sensitive skin could experience more discomfort, but any side effects are generally mild and include swelling or blisters. If you experience any adverse effects, please contact your provider so they can advise you about how to address them.
Can Laser Hair Removal be Performed on Darker Skin Tones?
Our state-of-the-art lasers can safely and effectively treat even the darkest of skin tones for hair removal. There is a pretty common misconception that darker skin tones cannot be treated with laser hair removal, however, this is not the case. While this may have been true back in the late 90s when the FDA first approved laser hair removal, significant advances in medical-grade laser technology over the years have made the treatment both safe and effective for darker skin types.
Is Laser Hair Removal Treatment Painful?
The comfort and safety of our patients is of the utmost importance. While laser hair removal is not totally painless, it causes far less pain than waxing on average. Especially as cosmetic technology is constantly improving, the comfort level experienced by patients undergoing laser treatments continues to get better. To ensure that our patients are as comfortable as possible during treatment, each of our state-of-the-art laser systems feature contact cooling and are additionally equipped with advanced external cooling systems. These advanced cooling systems, also known as "Cryo Chillers", are specifically designed to alleviate discomfort during the treatment.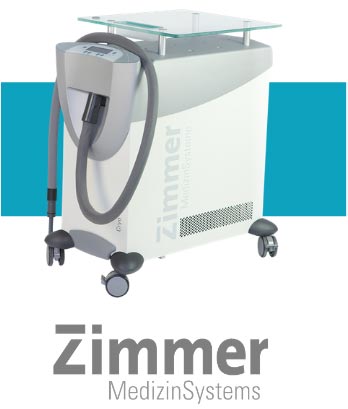 Does En Vogue Medi-Spa Offer IPL Hair Removal?
En Vogue Medi-Spa is proud to feature IPL by ICON™, CynoSure's most advanced Intense Pulsed Light Treatment System. While IPL is an excellent treatment method for Photo-Rejuvenation, we in most cases strongly recommend Laser over IPL for hair removal treatments. Laser Hair Removal has been clinically proven to be the most effective hair removal treatment option for nearly all skin types. IPL treatment systems are not lasers, hence it is quite misleading to call it as such. Similar to laser, IPL is also considered a light-based treatment, but they have distinctive differences which potential patients must be aware of – Read our IPL Hair Removal vs Laser Hair Removal Blog Post here.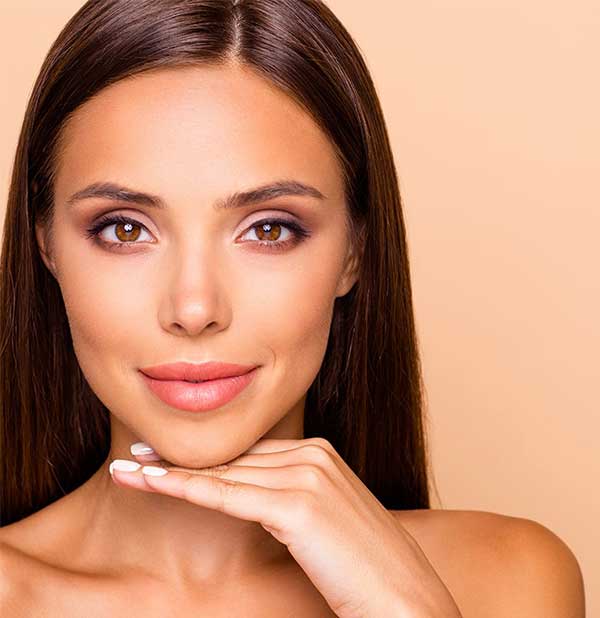 Additional Services You May Need