Breast Lift Surgery Specialist in Southampton PA
At En Vogue Medi-Spa, our breast lift surgery specialists can perform effective procedures to raise the breasts to create a more youthful breast appearance. For more information,

call

or book an appointment. We are located at

44 2nd St Pike Southampton PA 18966

.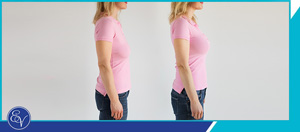 Table of Contents:
What is a breast lift?
What are the common reasons women choose breast lift surgery?
What can I expect during and after the procedure?
Who is a good candidate for breast lift surgery?
Many people wish to enhance their appearance; whether they want to look younger, thinner, curvier, or more natural, cosmetic procedures can help them achieve the look of their desires. One area that many women want to improve is their breasts, which is especially common due to the effects that aging has on the female anatomy. After giving birth and breastfeeding, the breasts can sag, giving them an aged appearance. Fortunately, breast lift surgery can ameliorate these concerns, providing a perky and pulchritudinous appearance.
What is a breast lift?


A breast lift is a surgical procedure that reshapes the breasts to a more youthful position, improving the appearance of the breasts and the area surrounding them. A breast lift can be performed on its own or in conjunction with a breast augmentation to enhance the size and shape of the breasts. The surgery is also known as mastopexy, which is the medical term for the lifting of tissues in the breast area and is one of the most popular surgical procedures for the breasts. The most common breast lifts are performed through an incision around the areola and breast, known as an incisional breast lift, or through incisions around the areola only, known as a peri-areolar breast lift.

What are the common reasons women choose breast lift surgery?


Although breast augmentation is a popular procedure for women seeking to enhance the size and shape of their breasts, some individuals are actually better candidates for breast lift surgery, which focuses more on raising the breasts rather than increasing their size. This rejuvenating procedure can address many common concerns that women have with their breasts, including sagging and drooping breasts which commonly occurs with age and particularly after breastfeeding. Breast lifts provide the following benefits:

• Elevates the position of the breasts
• Resizes the areolae
• Repositions of the nipple-areola complex
• Enhances breast symmetry
• Improves the overall shape of the breasts
• Boosts self-esteem

What can I expect during and after the procedure?


During the procedure, an incision is made in the breast and some excess skin is removed, allowing the surgeon to lift up the tissue of the breast and create a more firm, supple shape. The incision is stitched and heals over time; it is ideally made in a location that is mostly unnoticeable. After the procedure, dressings or bandages will be applied to the incisions to aid in the healing process. To minimize swelling and support the breasts as they heal, patients are advised to wear an elastic bandage or support bra. In order to facilitate proper recovery, patients should plan at least one week off from work; if they have a physically active job, more time off may be required. After about two weeks, the cosmetic surgeon may give the patient permission to resume most normal activities; patients should still avoid lifting heavy objects or straining activities until the surgeon approves it. Furthermore, patients should not wear an underwire bra for at least six weeks; a surgical bra will support the breasts and help them maintain their shape as they heal.

Who is a good candidate for breast lift surgery?


Good candidates for breast lift surgery:

• Are physically healthy
• Maintain a stable weight
• Do not smoke
• Have sagging breasts
• Have flat, elongated, or pendulous breasts
• Have nipples that fall below the breast crease
• Have nipples and areolae that point downward
• Have stretched skin and enlarged areolae
• Have one breast lower than the other

If you have noticed that your breasts are sagging more than they used to, a breast lift can help restore them to their former glory. At En Vogue Medi-Spa, our cosmetic surgeon specializes in breast lift surgery and can help make your dreams a reality. Call us or schedule a consultation with our breast lift surgery specialist, or visit our clinic conveniently located at 44 2nd St Pike Southampton, PA 18966. We serve clients from Southampton PA, Woodmont PA, Willow Grove PA, Horsham PA, Levittown PA, and Parkland PA.